(INTER)ACTIVE ILLUSTRATED DEE-LUX DISCOGRAPHY
Part One
UPDATED!


Please try not to blow up the fucking solar system with it, 'kay?


Yer pal (NOT!),
-

EROS the SMART SPACEMAN




REMEMBER, GANG, ANYTHING WITH AN ASS TO RISK (*) IN FRONT OF IT IS JUST BEGGING YOU TO CLICK ON IT, AND WILL REWARD YOU HANDSOMELY FOR SO DOING.
1979
Gravest Hits
Gravest Hits is the debut 12" EP by the American garage punk band The Cramps. It was released in July 1979 on Illegal Records and I.R.S. Records. It was produced by Alex Chilton and recorded at Ardent Studios in Memphis in 1977. It featured liner notes by "Dr. J.H. Sasfy, Professor of Rockology, American Rock'n'Roll Institute, Washington D.C.U.S.A." It is one of first documents of the rockabilly revival genre, and the psychobilly genre. The photograph on the back of the original sleeve of the band in performance was taken at New York's Palladium Theatre.


Side one
* 1 "Human Fly"
(Lux Interior, Ivy Rorschach)
* 2 The Way I Walk
(Jack Scott)
http://www.jackscottmusic.com/
Jack Scott charted more times (19) in a shorter period of time
(41 months) than any other recording artist -- except The Beatles.
He was born Giovanni Sacfone Jr., the son of an accomplished
guitarist, on January 24, 1936 in Windsor, Ontario. Fascinated
by the music of Hank Williams, young Jack took up guitar at age eight
and was pretty good by the time his family moved to Hazel Park, Michigan
in 1946. While in his teens he began performing regularly on radio.
At age 18, Jack formed his own band and soon caught the ear of ABC
Paramount A&R man Joe Carleton. Three 1957 singles were cut, but
when they were unsuccessful, Scott was dropped by the label. In early
1958, at his own expense, Jack recorded two new tunes, "Leroy" (about
a frequently-jailed real-life friend he called "Greaseball") and
"My True Love." As it happened, Joe Carleton, who had just
started his own record company, elected to buy the masters and
release them on Carleton. "'Leroy' took off like lightning," Scott
remembered -- climbing to #25. When DJs flipped the single
over, they found "My True Love," which did even better -- soaring to #3
and selling a million copies.
Jack Scott has been nominated for the Hit Parade Hall of Fame. Click here to vote for him.
Half the songs on Jack's debut album (one of the first in true stereo)
became chart singles, including "With Your Love," "My True Love,"
"The Way I Walk" and "Goodbye Baby." A stint in the Army
from February to May 1959 slowed Scott's momentum, but only briefly.
"I was with Carlton; they had the right to record me," Jack recalled.
"Another company, Starfire, had my management and publishing.
Starfire got into hassles with Carlton because Joe Carlton wanted
publishing as well. Next thing I knew, I was pulled off Carlton and onto
Top Rank It was on Top Rank that Jack Scott was best showcased
as a reverberating balladeer. While the same four-chord climbing
sequence was often endlessly repeated, it was all the back-up needed
for Jack to take "What In The World's Come Over You" to #5 in
1960, followed quickly by "Burning Bridges" (which hit #3). "Oh Little One"
and "It Only Happened Yesterday" also landed on the Hit Parade.
Scott went on to record for Capitol, RCA Victor, Dot and other labels,
but with little success. "I've never had a job outside music," Jack
reports. "I do club dates around Michigan, staying pretty close to
home most of the time. Sometimes I play the same club five nights a
week. It's usually 40 minutes on stage, then a 20-minute break
and so on for five hours."
In 1993 a five CD box set compiling Jack Scott's 1957-65 output was
released on the Bear Family label. Jack wrote every one of his own hits --
except "Burning Bridges."
* 3 "Domino"

(Sam Phillips)
Side two
*1 Surfin' Bird

(Al Frazier, Sonny Harris, Carl White, Turner Wilson) (credited to "Wahrer")
"Surfin' Bird" is a song performed by the American surf rock band The Trashmen, which reached #4 on the Billboard Hot 100. It is a combination of two R&B hits by The Rivingtons, "Papa-Oom-Mow-Mow" and "The Bird's the Word" and was released in 1963.
The Rivingtons followed up their 1962 Billboard Hot 100 hit "Papa-Oom-Mow-Mow" with the similar "The Bird's the Word" in 1963. The Trashmen had not heard this version but saw a band called The Sorensen Brothers playing it. They decided to play the song that night at their own gig. During this first performance, drummer and vocalist Steve Wahrer stopped playing and ad-libbed the "Surfin' Bird" middle section. Despite not knowing "The Bird's the Word" was a Rivingtons song, the similarity to "Papa-Oom-Mow-Mow" was obvious and The Trashmen added the chorus to the end of their new track. A local disc jockey, Bill Diehl, was at the gig and convinced the band to record the track. It was recorded in Minneapolis. Diehl entered it into a local battle of the bands competition and it won. It was then sent to a battle of the bands competition in Chicago where it also won. This led to the group being signed to Garrett Records with the single being quickly released. It reportedly sold 30,000 copies in its first weekend[2] before going on to national success, reaching #4 on the Billboard Hot 100.
Cover versions of Surfin' Bird:
* 2 "Lonesome Town" (Baker Knight)
ORIGINALLY BY RICKY NELSON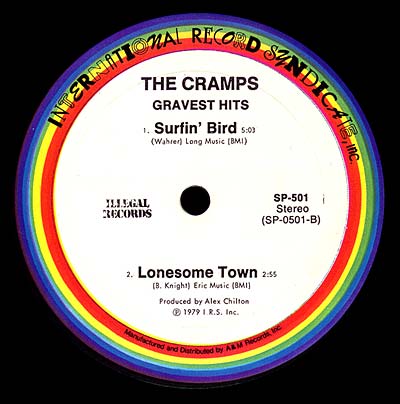 1980
Songs the Lord Taught Us
Songs the Lord Taught Us is the first full-length studio album by the American garage punk band The Cramps. It was released in 1980 on Illegal Records.
The Cramps got away with their Z-movie, zombie-rock
schtick
because they were so intense in their conviction that it had more value than middlebrow humanist pop. Descending on Memphis to cut their debut album with Big Star legend Alex Chilton, the band served up a thirteen-song punkabilly testament to drive-in anti-culture, replete with garage-band guitars and booming voodoo drums. Versions of "Fever" "Strychnine," and the Johnny Burnette Trio's "Tear It Up" competed with Lux Interior-Poison Ivy originals like "T.V. Set" and "I Was a Teenage Werewolf."
Songs the Lord Taught Us
was also the first and last Cramps album to feature scary-looking guitarist Bryan Gregory.
--Barney Hoskyns, Amazon Dot Com
Side one
*1 TV Set
*2 Rock On The Moon

(Jimmy Stewart)
3 "Garbageman"
* 4
* 5 "Sunglasses After Dark"

(Rorschach, Interior, Rosalind Michelle Pullens, Wray Sr.)
For all the dish that's fit to nosh on Pete "The Mad Daddy" Myers, go ye HITHER:
http://www.freewebs.com/maddaddy/#
Side two
* 1 Mystery Plane
* 2 Zombie Dance
*3 "What's Behind the Mask?"
4 Strychnine
(Gerry Roslie)
Originally by THE SONICS
The Sonics
are an American garage rock band from Tacoma, Washington, originating from the early and mid-1960s. Among The Sonics' contemporaries were The Kingsmen, The Wailers, The Drastics, The Dynamics, The Regents, and Paul Revere & the Raiders. This movement is credited with founding Seattle's well-known music scene which survives to the present. The Sonics' sound is noticeably rougher, cruder, and more brutal than that of their musical peers, and among those in the know the band sometimes regarded as the first punk rock group, though well before the punk movement took off in the late 1970s. Although they had a fairly standard instrumental lineup for the time, The Sonics made their unique sound with wild arrangements, often disturbing lyrics, peppered with screaming and howling, and electric guitars played through amplifiers customized to render the harshest tones possible. Although their period of greatest success was coincident with the release of Gibson's first fuzzbox, The Sonics' fuzzy sound was their own creation.


The classic Sonics lineup, as recorded on Here Are The Sonics and Boom:
Gerry Roslie — organ, piano, lead vocals
Andy Parypa — bass guitar
Larry Parypa — lead guitar, vocals
Rob Lind — saxophone, vocals, harmonica
Bob Bennett — drums
* 5 I'm Cramped
6 "Tear It Up"

(Johnny Burnette, Dorsey Burnette, Paul Burlinson)
* 7 "Fever"

(John Davenport, Eddie Cooley)
1981
PSYCHEDELIC JUNGLE
(Kid Congo recalls...) When we recorded Psychedelic Jungle, it was recorded at A&M studios which was a different thing for The Cramps to do. They had recorded with Alex Chilton in Memphis at Sam Philips Studio and everything had been quite historic with that, so this was like going into new territory. I think that choice had to do with "That's where the Doors were" - and I think that's even where The Stooges were. And it was also because of the record company, I.R.S, and how Miles Copeland got a good deal. I don't know if it was a conscious choice to have a cleaner sound or not. I think that's just where we were and it was time to make a record. For that song "Don't Eat Stuff Off the Sidewalk", I remember the engineer saying, "Karen Carpenter has the most perfect crash cymbal. I have to go to Karen Carpenter's locker and get her crash cymbal!". And I thought that was really good ironic choice for a song called "Don't Eat Stuff Off the Sidewalk" - to use Karen Carpenter's cymbal. So that is her crash cymbal on that song. We did lots of different weird experiments like taking lots of speed so we would be like ghosts when we played. I think that worked sometimes - but I don't remember because you really can't remember things when you're on speed. I remember when we did that song "She Said," Lux, to get that correct Hasil Adkins sound and phrasing, he stuck a whole styrofoam cup in his mouth and sang the entire song chewing on a styrofoam cup. So this is where I was learning what recording technique was all about. And then we just ran around throwing ashtrays and screaming. And I was really happy with the sounds. I really like "I Can't Find My Mind." Maybe we did become ghosts because you could hear these really weird overtones and things in my guitar and every time the guitar stops you could hear these breaks – you could hear these squeaks like…these amazing sounds. So songs like "Beautiful Gardens" was a totally improvised song. We had a riff I kept playing this crazy riff and again, that was one of our ghost songs where we completely improvised the song. So we would play a riff and a beat and then Lux would go off and it went wherever it went (it went into some beautiful gardens). And there's a backwards vocal on it - and at one point it fades out and comes back in and you hear this backwards weird sound and its Lux saying, "If you knew what I knew about this record company, this place would be a parking lot". What I really always loved about Songs the Lord Taught Us and Gravest Hits was Bryan Gregory's guitar solos. They were just pure weird sound. So with "Caveman," I got to make a sound like a caveman - and I think quite successfully.
Side One

1 "Green Fuz"

(Alrey, Dale)
Green Fuz
From Wikipedia, the free encyclopedia

The Green Fuz were an American garage rock band in the late 1960s known for their one single, "Green Fuz", which has become a classic of the genre and was covered by The Cramps. On the single, the band was identified as Randy Alvey & Green Fuz. The group was formed in Bridgeport, Texas. The members were Randy Alvey (vocals), Mike Pearce (drums), Jimmy Mercer (rhythm guitar), Les Dale (lead guitar), and R.E. (Buck) Houchins (bass). Alvey and Pearce formed their first group, the Psychedelic Reactions, in 1967, and after some personnel changes they became The Green Fuz - named after Dale's green fuzz box. They played at dances and clubs, and gained enough local popularity to persuade the co-owner of Wash-Tex Records, Shorty Hendrix, to record their self-written theme song. The recording took place in a deserted roadside cafe, chosen for its acoustics, and was issued locally in 1969. It was not a success, largely because the primitive recording techniques led to a muffled sound, which has subsequently contributed to its cult appeal. The record resurfaced on a prominent garage rock compilation album, Pebbles, Volume 2 in the late 1970s and has since appeared on many similar compilation albums. Alvey, Pearce and Houchins were later involved in another group, Natchez.
The roots music festival Ponderosa Stomp, of New Orleans, featured Green Fuz (above) in 2008, after its founder, Dr Ira Padnos found the Green Fuz's lead guitarist Les Dale in Virginia Beach, VA, retired, after two decades in the US Navy.



2 Goo Goo Muck
(Ronnie Cook)

Originally by Ronnie Cook and the Gaylads (I know...)
* 3

"Rockin' Bones"
Originally by RONNIE DAWSON
An only child, born in Dallas and raised in Waxahachie, TX to a swing band leader father (Pinky Dawson), Ronnie Dawson launched his musical career while still in his teens. Forming a band, Ronnie Dee and the D Men, he won a talent contest at the Big D Jamboree in Dallas ten weeks in a row. He signed with Gene Vincent's manager, Ed MacLemore and came close to achieving success as a rockabilly guitarist/singer. His first two singles, "Action Packed" b/w "I Make the Love" and "Rockin' Bones," (credited to "The Blonde Bomber-Ronnie Dawson") sold well regionally and resulted in a contract with Dick Clark's label, Swan, and an appearance on National Bandstand. His sides for Swan were well received, but cast Dawson as a countrified teen idol, rather than a rockabilly wildcat. Dawson's new success came to a halt when the late-'50's payola scandal forced Clark to close the record company, leaving Dawson without a label. Dawson made a few unsuccessful attempts to salvage his career, including a 1961 single for Columbia, "Do Do Do" b/w "Who's Done Been Here," credited to the fictional character Commonwealth Jones. Limited to a sideman position, Dawson toured with the Light Crust Doughboys and played drums on Paul & Paula's "Hey Paula" and Bruce Chanel's "Hey Baby."
A member of the Dallas-based Levee Singers in the 1960s, he performed with a country-rock band, Steelrail, in the 1970s and '80s and recorded commercial jingles for Hungry Jack pancakes, Jax beer, and Cici's pizza.
Although he remained little-known in his native country, Dawson was hailed as a rock pioneer in England. Signing with the British No Hit label in 1986, he recorded three impressive albums: Monkey Beat!, Rockinitis, and Just Rockin' & Rollin'. The label also released a compilation of his earlier recordings, Rockin' Bones. Dawson recorded a live album, Live! at the Continental Club, in Austin, TX, in January 1998. In October 1998, he returned to the recording studio to record More Bad Habits(released in 1999), his first studio recording in the United States in nearly three decades.
His mid-'80s rediscovery led to Dawson's name and songs winding up in a variety of places. In 1995, Dawson made a triumphant appearance on Late Night with Conan O'Brien. 1998 was a watershed year for the Blonde Bomber, in addition to recording an album, his song "Yum, Yum, Yum" was featured in Mike Nichols' film Primary Colors and Izzy Stradlin of Guns n' Roses recorded his tune "Up Jump the Devil." The following year two songs from More Bad Habits were included in the film Simpatico. His tour for More Bad Habits was announced as his last rockabilly tour, although he continued to perform at festivals and special concert events. In 2002, Dawson was diagnosed with throat cancer and fans in the U.S. and abroad held benefit concerts to help him pay for medical costs. The Blonde Bomber finally succumbed on September 30, 2003. He was 64.
~ Craig Harris & Wade Kergan
http://www.answers.com/topic/ronnie-dawson#
*4 "Voodoo Idol"
*5 Primitive

(Groupies, Steve Venet)
Originally by THE GROUPIES

The Groupies were from New York City--bad boys with a hard musical edge-- bluesier than the Rolling Stones, who could have been considered pretty, standing next to the Groupies. They were scruffy and arrogant and had been spoiled rotten by Ahmet Ertegan, president then, of Atlantic Records.
At one time, the Groupies were the number two band in New York--the Rascals being number one. This is unusual because the Groupies did not have a hit record. Their reputation was built solely on their live performances. Everybody, including Ahmet, figured they had a big career ahead, but the Groupies kept screwing up. One of the worst screw-ups, was when they were scheduled for a concert appearance in Philadelphia. The Groupies cashed in the plane tickets and flew to Los Angeles instead. That may have been the straw that broke Ahmet's backing. The Groupies, however, were only sixteen and seventeen years old, and had no handle on responsibility.
http://www.hollywoodhangover.com/groupies_page.htm

*6 "Caveman"
* 7

"

The Crusher

"

(Bob Nolan)
The Crusher
by Steve Slagle
* http://www.wrestlingmuseum.com/pages/wrestlers/crusher2.html



Reggie "The Crusher" Lisowski
(July 11, 1926 – October 22, 2005)
was one of the toughest and most popular personalities in wrestling during the second half of the 20th century, battering and bruising his helpless opponents to the delight of his legions of working-class fans for over twenty years. He first established a reputation as one of the elite brawlers in the sport during the late 1950's and early 1960's, and then went on to Tag Team glory with his drinking buddy and fighting partner, the legendary Dick the Bruiser. It made no difference whether the 260 lb. cigar-chomping Crusher entered the ring as a singles wrestler or teamed with The Bruiser, championships and a deservedly fearsome reputation followed his every step. Reggie Lisowski's nickname was one that he earned in the ring, by doing exactly what the name implies. A nearly unstoppable barrel-chested bulldozer, The Crusher steamrolled over his (primarily villainous) opposition. Wrestling technique and a vast repertoire was not The Crusher's style. Proving himself as one of the toughest brawlers in wrestling history was...


In 1964, the Minneapolis-based garage rock band The Novas wrote a song dedicated to him called "The Crusher",
featuring the wrestler-- or not-- on lead vocals (and his trademark yell at the beginning of the record). The tune, which included the lyrics "Do the hammer lock, you turkeynecks!" was popular in the upper Midwest and made it to #88 on the national Billboard chart. The song has received a resurgence of popularity in recent years, as David Letterman has often played it on his late-night talk show. The song was also covered by an obscure "psychobilly" band whose name escapes me right now.



Side Two
*1
Don't Eat Stuff off the Sidewalk
2 Can't Find My Mind
*3 Jungle Hop
(Kip Tyler)
KIP TYLER
(By Tony Wilkinson, with acknowledgement to Klaus Kettner)
To become a true rock 'n' roll singer back in the fifties meant that almost everyone hated you - parents, the church, the establishment and the old time musicians. But this did not bother a cool cat like Kip Tyler, as long as the kids loved him and his music. He often joined his band on stage dressed in black leather and on a motorbike. Unfortunately he simply refuses to talk about his rock 'n' roll days, perhaps due to the fact that many of his band members subsequently became successful in the music business. But let there be no doubt - he was an important leader, and part, of the fifties Californian rockabilly and rock 'n' roll history.
Click here for the complete article:
http://www.rockabilly.nl/references/messages/kip_tyler.htm
*4 The Natives Are Restless
*5 Under the Wires
Originally called "Subwire Desire" (at least by bootleggers), this is a suggestive but tame little ditty from the days before we knew just how filthy-minded Lux really was!
*6
Oh my ! Oh me ! What in the world's come over me ?

I'm seeing things that I should never see

Spiders in my eyelids and ghosts in the cheese

Whin the the world's come over me ?

I've lost touch with reality, reality, reality, reality, reality

Oh my ! Oh me!

The deaf walk the angry sea

Vampire Lesbos are after me
I'm coming unhinged, weak in the knees

I'm coming away from reality, reality, reality, reality, reality...

Hear the wind whistle through my noggin
*"Palisades Park" by Freddy Cannon

Ride the void to outer space

Pull my eyeballs right out of my face

A world of leatherwork and rubber ashtrays

Beautiful gardens and all kinds of games

Now I can't get back to
Reality, reality, reality, reality, reality


You know something, music sure sounds better than it used to...
(NOTE: Lux once said that during an acid trip, he was sitting in a bathtub and hallucinated the organ part of "Palisades Park" by Freddy Cannon-- a song written by gameshow host cum CIA hitman Chuck Barris-- which is why it is mentioned in "Beautiful Gardens." -- Drug Awareness Chuck)
* 7 "Green Door" (Bob Davie, Marvin Moore)
"(The) Green Door" is a 1956 popular song with music composed by Bob Davie and lyrics written by Marvin Moore. The lyrics describe a nondescript establishment, with a green door, behind which "a happy crowd" play piano, smoke and "laugh a lot," and inside which the singer is not allowed.
According to the website Songfacts, the lyrics were inspired by a popular music club in Dallas, Texas, where the kids who were not allowed in hung around outside a yellow door. The color was then changed to green in the song because it "sounded better." At the time the song was popular, many believed it was inspired by a green-doored restaurant and bar called "The Shack" in Columbia, Missouri, where singer Jim Lowe had attended the University of Missouri. Long-time Shack owner Joe Franke doubts this theory, however. The song has also been said to refer to the lesbian Gateways club (first opened in 1930), which had a green door and was featured in the movie
The Killing of Sister George,
though this seems unlikely
AS WE SPEAK

, a revised PART TWO is slouching toward Bethlehem to be born...