DID YOU REMEMBER TO SET YOUR CLOCK BACK?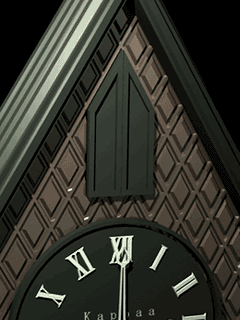 DON'T TRY TO LIVE IN THE FUTURE.
Remembering Lux Interior

Shocking to hear the news of the death of Lux Interior, the charismatic and effective lead singer of The Cramps, who died this week of a heart condidition at 62.
Or something like 62 -- his age has been reported as anywhere from 60 to 64. What is undisputed is that he kept true to the sound his band honed for 30 years.
But maybe the demise is not so shocking -- he had appeared as a sort of dancing zombie in front of the band that modeled itself after the best of trash culture, horror movies, comics and horror TV showcases.
The ghoulish approach of the frontman set the perfect mood for the horror-rock punch of one of the last surviving beloved cult groups from the late '70s.
In later years, his dyed black hair down and his arms flailing, he rather resembled the somnambulist from "The Cabinet of Dr. Caligari," sinisterly revived and ready to rock.
But in a bizarre red latex suit, with matching red high heels, contrasted by a string of pearls, dangling pearl earrings and a bit of lipstick, he sometimes looked like Rosa DeLauro.
In addition to keeping alive the throbbing heart of 1950s rockabilly into the appreciative confines of just-emerging punk clubs, the Cramps put its own echoy mark on a sound that they also coined - psychobilly.

More than an act, this was their life. And even as the band's subject matter aimed no higher than variants on monster movie titles, the group itself represented one of the great love stories of rock 'n' roll, as Interior led the band with his wife Poison Ivy.
How great it was to hear those timeless first records again this morning after I pulled them out of my basement very late last night. I'd always play them annually around Halloween, where there music fit so well. And I was lucky to see them a few times at Toad's Place in New Haven.
The last time there, I bought one of the more unusual band merchandise offered amid the T-shirts and such - it was a two-headed shoe horn for men and women. One side says "HISS" the other, "HEARSE." I use it every day.

On the jump, there's a review of the last Cramps show I saw, in 1998; and an interview I did with Lux in advance of a 1992 show there.

From a review published March 19, 1998:
Nobody would accuse the Cramps of sentimentality, but the band's current tour, which ripped through Toad's Place in New Haven Tuesday, had the echo of one of those 20-year retrospectives.
Just three numbers from the band's current ``Big Beat from Badsville'' were included in the throbbing 19-song set. It was almost as if the pioneering psychobilly group couldn't be bothered to learn more than the first three tracks on the album.
All the better for longtime Cramps fans, treated to such early delights as ``Goo Goo Muck,'' ``Garbageman,'' ``Sunglasses After Dark'' ``TV Set'' and all the way back to the first pair of singles in 1977, ``Surfin' Bird'' and ``Human Fly.''
The songs menace, twang and pulse as strongly as they ever did. Cramps mainstays Lux Interior and Poison Ivy Rorschach by now know the precise degree of reverb each song requires, their rhythm section well-versed in bolstering the classics at hand. Harry Drumdini has the simple basic beat that Nick Knox brought to early recordings (using big plastic bones at one point to drive home the primitive beat). Too Slim colors the sound with a fuzz-tone distortion that serves as part guitar, part bass, while affecting the Veronica Lake hairdo once worn by Cramps original Bryan Gregory.
Interior, who turns 50 this year, is beginning to resemble a campy TV late night horror movie host, somewhat like the one to which the new album is dedicated, Ghoulardi. In goofy Halloween specs, elegant black velvet waistcoat and gloves, he seemed possessed by sound problems.
``We swore we'd never do an `Unplugged,' '' he said at one point, dismayed by a low sound level. ``But this is about as close as we've come. Blow it out or turn it off!''
While feedback rang through dramatic silence in ``Love Me,'' the mix seemed fine in the audience. It enraged Interior sufficiently that he bent and broke three microphones by the apocalyptic end, tangled a web of microphone cords, bit off the head of a chopped microphone and spit it at the audience. He still managed to keep singing, while hanging from a beam.
``I am better than Jewel!'' the madman declared. And he was.
His wife, Poison Ivy, dressed in zebra print swimsuit, fishnet hose and knee-high boots, kept the authentic rockabilly twang going amid any chaos.
Together, they made the reassuring point that, at a time when the Rolling Stones and Fleetwood Mac nostalgia fests are the biggest ratings-getters on PBS, some 20-year- old rock 'n' roll is still unfit for TV fund-raising.
From an interview that ran Feb. 19, 1992 in advance of a show at Toad's that would be opened by the Rev. Horton Heat:
With their goulish leers, creep-show logo, and echoey, throbbing beat, the Cramps appear to have emerged from some kind of primordial ooze.
Or at least from a melted-down goo of old rockabilly 45s and lurid monster-movie posters.
But to hear lead singer Lux Interior tell it -- from his country-western-style bus, en route to New Orleans from Texas (on a tour that stops tonight at Toad's Place in New Haven) -- the band arose from an even scarier time in rock 'n' roll.
"All the bands were called Silverhead or Windwhistle -- all these idiotic names," Interior recalls with some distaste. "And all their music was like Crosby, Stills & Nash and that kind of miserable stuff -- people were calling that rock 'n' roll!"


It was a big bore for Interior, raised in Akron, Ohio, as Erick Purkhiser, and his California girlfriend Poison Ivy Rorschach (originally Kirsty Wallace), who grew up loving the glitter of glam rock in the early '70s.
"We'd go to record stores looking for new records and there wasn't anything good," he says. "So we started listening to this stuff you could buy really cheap in junk stores, and it was blowing our mind. It was just so wild and great."
"Anything with the word `bop' in the title, we bought," he says. "It was really timeless music; there was nothing out-of-date or old-fashioned about it. It was fueled by sex, and really exciting, thrilling music."
So having already decided, in the moribund music scene of the day, that "if there were going to be fun shows to go to, we would have to be playing," their newfound treasures gave them something to play. Even in the late '70s punk music boom, "no one else was doing that," Interior says. "We decided this music couldn't be forgotten forever."


The band further distinguished itself by dressing as dripping ghouls off the pages of that banned '50s comic book, "Tales From the Crypt." "We're also big horror-movie fanatics," Interior says. "That was always stuck in our stuff somewhere."
It sure comes through on their songs, which sometimes sound
like marquee fodder for some all-night festival at a drive-in from hell: "Human Fly," "I Was a Teenage Werewolf," "Zombie Dance," "Strychnine" and "Voodoo Idol."
The theme continues on their two latest albums, with songs such as "Creature From the Black Leather Lagoon," "Bikini Girls With Machine Guns," "Dames, Booze, Chains and Boots," "Two Headed Sex Change" and the self-descriptive "Wilder Wilder Faster Faster."
The Cramps instantly became the leading, and only, proponent of something called psychobilly.


"We invented that term," Interior says. "The first posters we put out we put `psychobilly!' on it. That was just our ploy to get people to come in and see us. We went to art school, so we were into making posters saying things like rockabilly voodoo, all these weird things that would make people think: `What's going on?' "
The horror-show, voodoo mystique surrounding the band like cobwebs and dry ice grew out of control when founding guitarist Bryan Gregory disappeared on the second night of the band's first national tour -- to join, it was repeated, a devil worship cult.


"It was a bunch of crap," Interior says. "At the time, the record company thought he was going to have a solo career, so they were making up all this stuff about him being a witch. I mean, he can't even read. It's very difficult to be a witch if you can't read."
At any rate, Gregory never became a solo artist, although Interior says he runs into him from time to time.
Interior and Rorschach, who now writes as well as produces, persevered with drummer Nick Knox and a variety of bassists.

Knox is gone from the current lineup, which features Slim Chance, formerly of New Jersey's Mad Daddies, on bass and Nickey Alexander of the Weirdos on drums.
"I think this band is going to stick," Interior says hopefully of the current quartet. But he adds it's not easy to be a Cramp.
"You either really love it and really want to do it with everything you got, or else it's too much work. If you're looking to use this to make some money or for something down the road, I think people can't take that. You have to like this life every day."
But an encyclopedic knowledge of obscure rockabilly is not that important.

"Anybody can dig a good rock 'n' roll song to be in this band," he says. "But they don't have to know what the matrix numbers are on Elvis' second single on Sun, or stuff like that."
Still, amid their crazed originals, the band reintroduces oldies from a number of eras.

The new collection includes an obscurity by the Sparkles, "Hipsville 29 B.C." and "Hardworkin' Man," which Captain Beefheart sang on the 1977 "Blue Collar" soundtrack.
The key to the Cramps are their intense and bizarre live shows, which have already gotten off to a good start on the current tour, which began in Tijuana, Mexico.
"The drinking age is just 16 there, and it's walking distance from the border. So all the San Diego 16-year-olds go down there to go crazy," Interior says. Even in relatively more staid Austin, Texas, the night before, "people were just throwing chewing tobacco on stage, bras, panties; somebody threw a fake eyeball on stage," Interior reports. "Every night, we have no idea what to expect. It's never boring."


As wild as some of the legendary past tours have been, Interior
figures the more recent shows are even wilder, partly because "I'm probably healthier than I have been in the past sometimes."
Still, the way he cavorts over the stage, sometimes in women's clothing, the singer of "Stay Sick!" must be talking about physical health. "We're not trying to be more outrageous than someone else," he says. "We're just trying to have a wild, fun, good time."
Sometimes the only thing that's killing him at the end of a show are his high heels.
"It's not bad if you get ones that fit," he says. "But the ones now don't fit and they're cutting my feet to ribbons."
Where does a guy, uh, get high heels to begin with? "Well, most cities have a Tall Girl's Shop, and you can go buy humongous shoes there."


The rest of his unusual wardrobe, he says, comes from fetish shops from around the world. "I bought a rubber bathrobe in Germany when we were there. I got a lot of great PVC shirts that really fit great and zip on the sides."
"We have," Interior says, "always been flamboyant dressers and stuff."